Concrete Covering: Outdoor Terrace
The Quartz Carpet concrete coating used by Les Surfaces Polyplay
Quartz Carpet is a 6 mm-thick coating trowelled over your concrete floor. Available for over 35 years in more than 50 countries, quartz stone is the solution for your concrete covering.
The quartz stone exterior concrete finish will breathe new life into your seasonal relaxation area.
Why choose Quartz Carpet for your deck?
Quartz Carpet gives you a seamless terrace. It can be installed on both wood plywood and concrete surfaces. This coating lets water through to allow the concrete to breathe and prevent spalling.
For plywood decking, we start by installing our liquid waterproof membrane to protect your structure. This membrane also allows the substrate to breathe, ensuring a job that will stand the test of time.
We've got the color of Quartz Carpet to match your deck to your home.
Once the work is done, you can enjoy your terrace 6 hours later.
Benefits of Quartz Carpet
Natural elegance

: Quartz stone cladding adds a natural, timeless touch to your terrace. Authentic quartz grains add a subtle texture and a unique sparkle that evokes natural beauty.

Durable resistance

:

Quartz Carpet

stands up brilliantly to sunlight, weather and frequent use. It is designed to withstand the elements and retain its beauty year after year.

Underfoot comfort

: Walking on

Quartz Carpet

is a pleasant experience. The surface is soft to the touch, yet offers exceptional resistance to wear and tear, guaranteeing comfort and durability.

Lets concrete breathe

: The Quartz Carpet system allows water to seep through, preventing water build-up and slipping problems. Your surface remains dry and safe, even after rain.

A choice of colors

:

Quartz Carpet

gives you the freedom to customize your deck to suit your aesthetic preferences.

Installation Expertise

: Surfaces PolyPlay installers have the experience to install the product the right way, giving you peace of mind.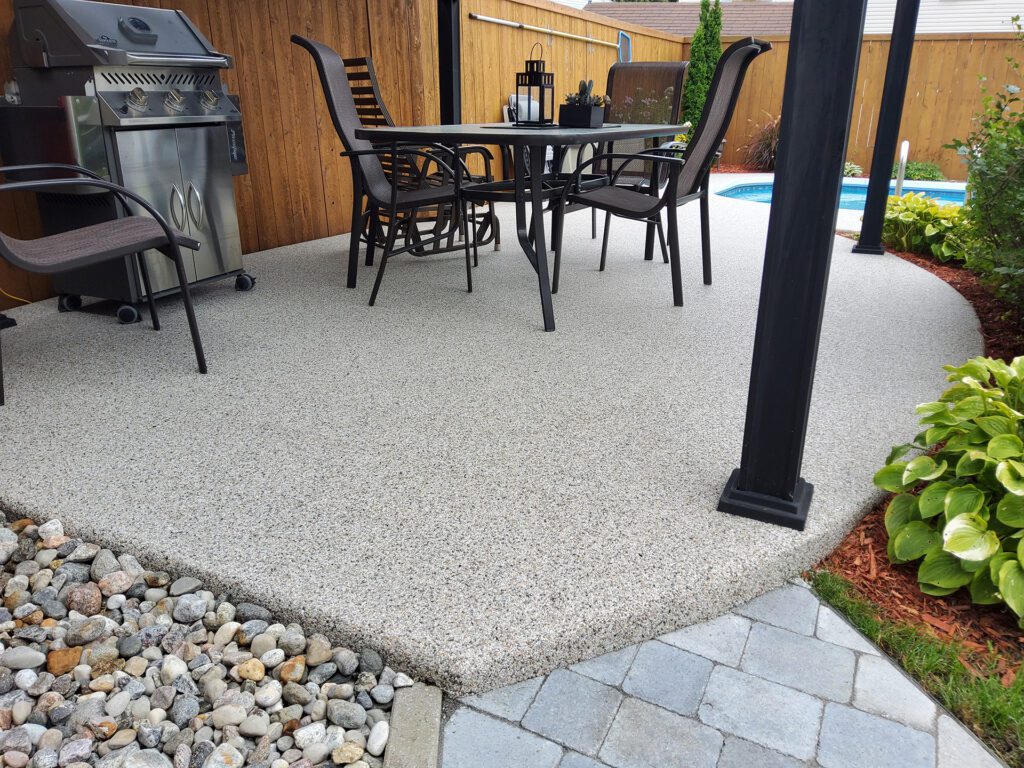 Refresh and protect your outdoor space with Surfaces PolyPlay
Your local Surfaces PolyPlay team is trained to offer you the right product in the right place. PolyPlay will guide you through your project to determine the right product to cover your concrete.
All our teams are fully trained to offer a turnkey project to each and every one of our customers. As soon as you request a quote, we'll take care of you so that every question you ask is answered accurately.