Quartz Carpet for kitchen floors: Comfort, resistance, easy maintenance
Quartz Carpet: Flooring without demolition
Our floor coating allows you to cover your old ceramic tiles without dust, demolition or joints.
Do you dream of changing the look of your home without the major inconvenience of demolition and dust? Our product is the answer to your needs. Quartz Carpet is installed directly on your existing ceramic floor. It requires no demolition work.
Our innovative solution installs quickly and cleanly. No need to endure weeks of construction work. With our product, the process is fast, efficient and dust-free.
Choose from a variety of colors, patterns and textures to create the space you've always imagined.
Hassle-free transformation: transform your living space into a dream home without the usual hassles. Say goodbye to demolition, dust and inconvenience. Opt for a carefree solution that combines beauty and practicality.
Discover the Beauty and Durability of Quartz Carpet for Your Kitchen Floor
Quartz Carpet is the perfect flooring solution for your kitchen floor. Explore how this innovative technology can transform your culinary space, combining aesthetics, durability and ease of maintenance.
Why choose Quartz Carpet?
Quartz Carpet has excellent stain resistance, is slip-resistant and easy to maintain, and its natural, seamless look will bring your kitchen floor back to life. It can be installed over old ceramic tiles, saving you the hassle of demolition.
Explore inspiring examples of kitchens transformed by Quartz Carpet. Find design and color ideas to create a space that reflects your personal taste.
No-dust, no-demolition installation on top of your Ceramic eve
Ceramic primer installation

: Our primer is odorless and dries in 1-2 hours, allowing us to install the quartz stone in the same day.

Application of quartz stone

:

Quartz Carpet

is mixed with resin and trowelled to a thickness of 6 mm.

Application of pore filler

: Once the Quartz Carpet is dry, we apply an acrylic sealer to fill the pores in the coating.

Topcoat application

: Once the pore filler has dried, we apply a matt polyurethane sealer to protect the system.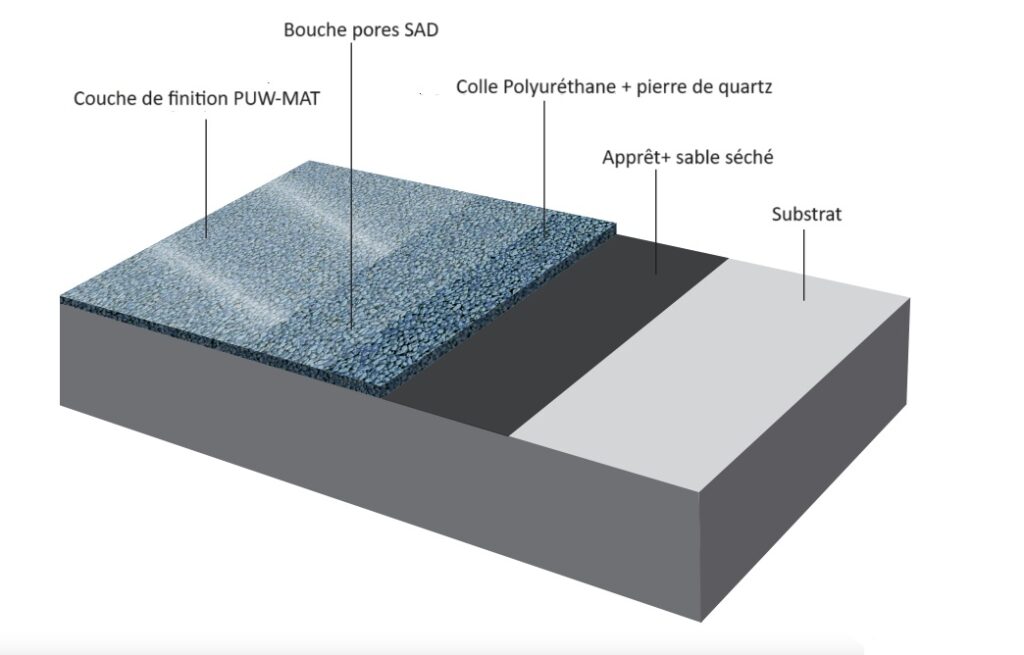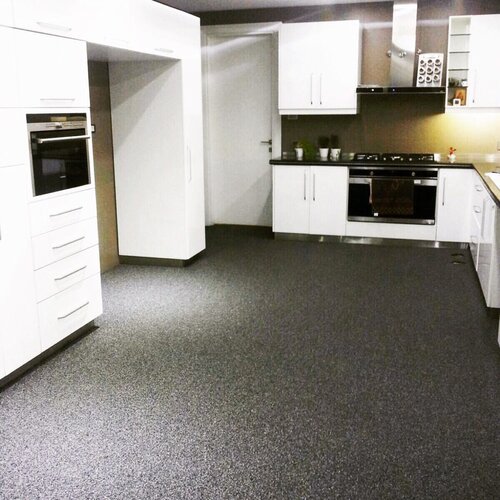 Performing for over 35 years


Demolition-free, dust-free renovation


Installation directly on your ceramic stand



Refresh and protect your interior with PolyPlay Surfaces
Your local Surfaces PolyPlay team is trained to offer you the right product in the right place. PolyPlay will guide you through your project to determine the right product to cover your concrete.
All our teams are fully trained to offer a turnkey project to each and every one of our customers. As soon as you request a quote, we'll take care of you so that every question you ask is answered accurately.