Waterproof everything, adhere to everything, Semco liquid membrane everything
The SEMCO Liquid Membrane is one of the most advanced anti-fracture & waterproof liquid membranes on the market. With 1300% elongation! Let us explain why Liquid Membrane should be used for your next project…
"For over 25 years, I have been developing a line of surface products designed to meet the diverse needs of our clients. Along the way, I have been met with many challenges. Our clients wanted a product that streamlined the waterproofing process, offered the durability and strength to stabilize multiple surface types and wood substrates, and also function as a waterproof adhesive. Unlike many products on the market that only accomplish one or two of these requirements, my goal was to create a single, high-performance solution that could meet all of them. That "one source" solution is: SEMCO LIQUID MEMBRANE" – Samel Sem, The Founder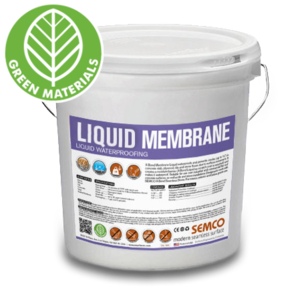 Apply liquid membrane over:
Concrete

Plywood, Villaboard

Stone

Tiles

Compressed sheeting

Exterior/ interior cladding
Apply liquid membrane to:
Washrooms/Showers
Pools
Wooden Surfaces
Unstable Substrates
Flat Roofs
The SEMCO Liquid Membrane is a single component water-based waterproofing and anti-fracture membrane. It is a self-contained elastomeric fluid suspended in a copolymer adhesive, this revolutionary blend enables easy application while providing excellent bridging, and waterproofing.
Benefits of liquid membrane
SWIMMING POOLS
Liquid Membrane is applied in pools to firstly waterproof a leaking pool but also to keep water from negative pressure out. For example concrete pools that are in the ground get negative water pressure when the ground is wet after rain and the water is soaked up by the concrete. So the Liquid Membrane does not only prevent the water inside the pool from leaking but also water from the ground to come in. Negative pressure can cause whatever current material is in the pool to delaminate. We have clients that have done small private whirlpools to olympic sized swimming pools with our Liquid Membrane system.
WET ROOMS/SHOWERS
Most of customers waterproof their wet rooms or the entire bathroom with the Liquid Membrane. Depending on how the shower surface is built, whether it is old tiles, cement board or just normal wood, The Liquid Membrane creates a more flexible and stable surface for the X-Bond or other finishes to be applied to.
WOODEN SURFACES
When you have wooden substrates like MDF, Liquid Membrane can be applied over the wood before applying X-Bond. The Liquid Membrane can be applied straight on the wooden substrate. The Liquid Membrane prevents the wood from bending, and on joints it is recommended to apply the Reinforcement Fabric to further stabilise the surface against movement. Our customers have used this method on custom furniture like basins or also some floors/walls have MDF as a substrate.
UNSTABLE SUBSTRATES
Whether you have fairly new concrete as screed that can still get settlement cracks, crumbling old concrete to old tiles that can get loose over time or crack, you can apply Liquid Membrane to stabilise the substrate before applying X-Bond or other finishes for added security.
FLAT ROOFS
Liquid Membrane can be used as a primary waterproofing membrane to waterproof the entire flat roof. It isn't used as finished product but often either tiles or X-Bond is put on top of the Liquid Membrane.
ANHYDRITE OR CONCRETE SCREEDS
In Europe Anhydrite is used widely on construction sites for subfloor as it is lighter than concrete screed. It is a mix between water and a gypsum based material that is getting pumped into the building and is self levelling. It is much faster to install and has a lower overall weight to the building. The only problem with anhydrite is it takes very long to dry since there is a high volume of water. And depending on weather conditions such as humidity and temperature, it takes up to 12 weeks to reach a relative humidity of 1-1.5% before any substrate such as wooden floors or tiles can be applied to. Liquid Membrane can be applied on the anhydrite already 7-14 days after it has been poured and a week after people can already apply X-Bond or whatever substrate they want to install afterwards. This would save a construction company 4-8 weeks of waiting time. Since the Liquid Membrane is also breathable, the anhydrite can still cure underneath and it becomes even harder when it cures slowly. This has already been tested on a couple of hundred units and more are to come this year.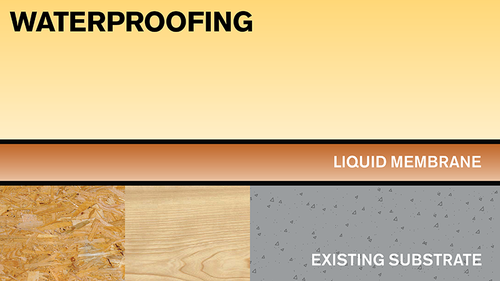 Waterproofing concrete and wood substrates
Liquid Membrane is the perfect self-adhering Membrane for waterproofing concrete and wood substrates. Use it for your shower, fountain, pool interior and protect it from long-term water or moisture damage.
* Drawing is not to scale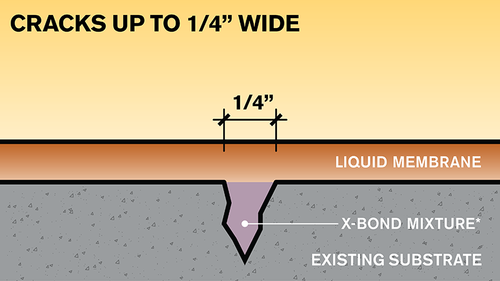 Repair cracks up to 1/4″ wide
Repair existing surface cracks and imperfections to ensure clean and smooth finish application.
* Drawing is not to scale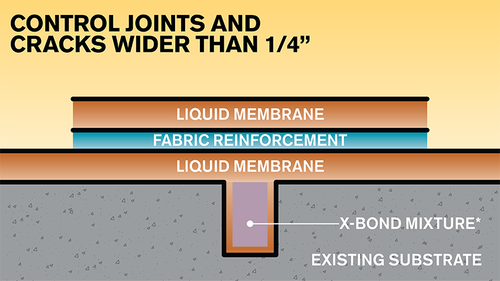 Repair control joints and cracks wider than 1/4″
Up to 400% stretch and elongation providing future crack suppression for years to come.
* Drawing is not to scale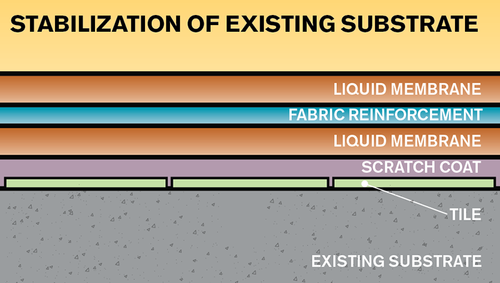 Stabilization of existing substrates
Repair existing surface cracks and imperfections to ensure clean and smooth finish application.
* Drawing is not to scale