Les Surfaces Polyplay offers you a business concept that works from day one!
Why choose Polyplay Surfaces franchise?
Exclusive products, unique concept!
The products offered by Polyplay Surfaces are unique on the market. We work with products that have proven themselves in more than 35 countries and for more than 30 years such as Quartz Carpet Canada products. With our franchise concept, we offer the opportunity to have full exclusivity of these products in the territory you choose. Our products are of high quality, durable, in demand and highly appreciated by our customers.
Discover our concept, finally start a business and be up and running from day one!
Manage your own schedule and balance work and family
You can now decide which hours are convenient for you. Your success will be the result of your efforts.
Be part of a family committed to your success
Our support team is there for you throughout your journey. Our goal: to support you and give you the tools you need to develop your business.
Hold a territory of activity of more than 100,000 homes
We offer you a territory large enough to be able to carry out the success of your franchise.
The advantages of our turnkey franchises
A trailer like Polyplay Surfaces containing everything you need to carry out your future projects is provided.
We have a team willing to answer calls and answer emails from your future customers.
We have our own work software. Work agenda, quote, invoicing, photo taking, purchase order etc. all this done on the same application.
Our commitment does not stop at the training given to become a franchisee. We remain available to provide you with the help you need to make your franchise a success. Whether for application, sales, marketing and to listen to your ideas that can help improve the image of Polyplay Surfaces.
Marketing and social media
We take care of everything. The website is continuously optimized. Our marketing team takes care of the advertising to make sure you fill your work agenda.
Total investment: 80 000$
Cash required for investment ***
Non-financeable portion of investment: $40,000
Other cash required: $15,000
Total cash required: $55,000
**The truck needed for operations is on hire
** A line of credit of $45,000 is required.
(accounts receivable + working capital)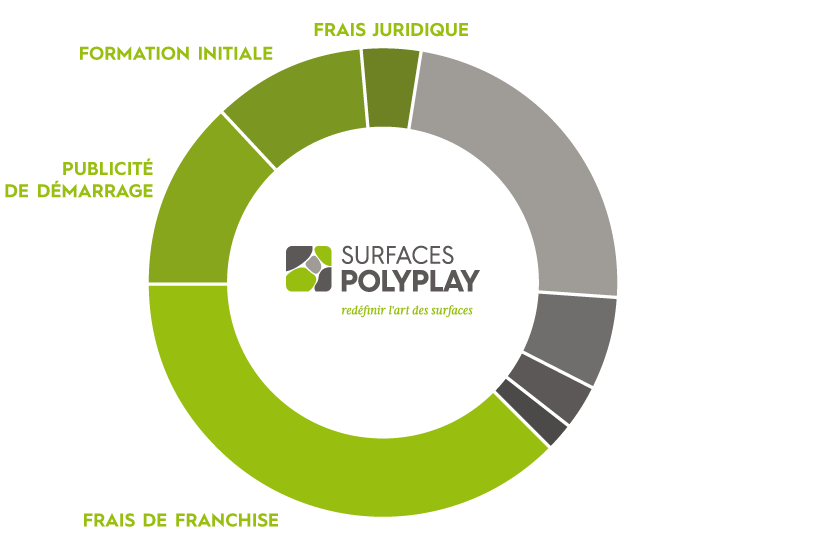 Territories currently available
Our territories are limited, do not miss this opportunity if your territory is currently available!​
PolyPlay wants to offer the opportunity of its franchise to exceptional people, those who want to succeed in business and develop a highly profitable enterprise. To this end, we have established a rigorous selection process that will not only provide you with all the information you need, but also enable us to select the best candidates for the privilege of becoming franchisees of our brand.




Step 4
Franchise contract signed and launched
Objective
Signature of the agreement
Conditions for success
Payment of the balance of the entrance fee
Objective
Signing the rental contract
Objective
Drawing up a training plan and planning the start-up of your franchise
Conditions for success
Successful completion of the technical, sales and administration training program