Resurface your concrete balcony
Quartz Carpet concrete coating used by Surfaces Polyplay
Aging concrete on your balcony can cause aesthetic and structural problems. Cracks, stains and wear can make your outdoor space unattractive and compromise its durability. There are several coatings for exterior concrete. Les Surfaces PolyPlay offers you an aesthetic and effective solution to bring your balcony back to life: resurfacing with our Quartz Carpet product.
For over 35 years, our exterior coatings have been used in more than 50 countries to bring concrete surfaces back to life.
Why choose Quartz Carpet from Surfaces PolyPlay?
At Surfaces PolyPlay, we use Quartz Carpet to protect, level and revitalize your old balcony. Quartz Carpet allows your balcony to breathe, avoiding weakening your concrete.
Quartz Carpet is a coating composed of 2-3 mm quartz stones mixed with a polyurethane resin. Once mixed, the quartz stone is trowelled to a thickness of 6 mm to correct any imperfections on your concrete balcony. Quartz Carpet provides a durable, elegant finish for your old concrete.
Let our experts guide you in your choice of color for your project.
How is Quartz Carpet installed?
Installation:
Preparing your concrete surface

scarification of existing pavement (if necessary)
Washing your surface with a pressure washer

Primer application

Primer to protect your concrete while allowing it to breathe
Allows good adhesion of Quartz Carpet

Applying Quartz Carpet

Your choice of 6mm thick truellé color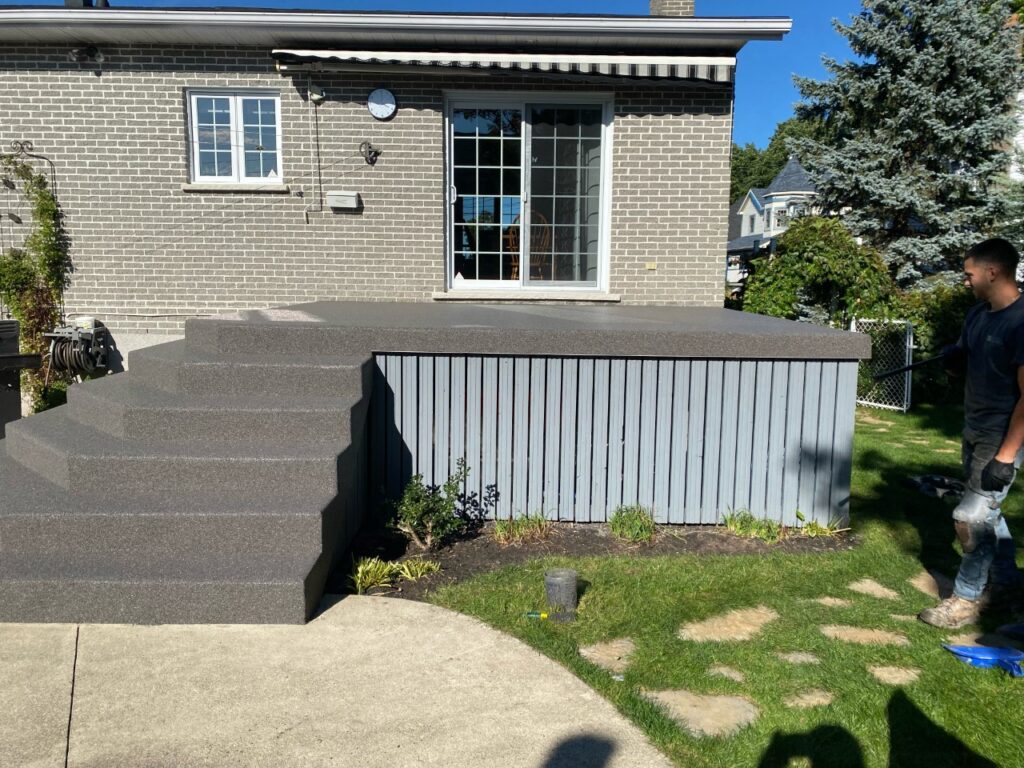 Robustness, versatility
For over 30 years



A product that lets your concrete breathe

Corrects imperfections in your concrete



Refresh and protect your outdoor space with PolyPlay Surfaces
Your local Surfaces PolyPlay team is trained to offer you the right product in the right place. PolyPlay will guide you through your project to determine the right product to cover your concrete.
All our teams are fully trained to offer a turnkey project to each and every one of our customers. As soon as you request a quote, we'll take care of you so that every question you ask is answered accurately.