What is the best wall coating product?
The acrylic concrete coating used by Les Surfaces Polyplay
Acrylic concrete coatings are extremely high-performance products. They are composed of a primary base of polymer cement in which a fibreglass membrane is applied. Thereafter the acrylic coating will be trowelled or sprayed onto the customer's surface. The steps may vary depending on the client's project. The possibilities are almost endless. Foundations, decorative mouldings, house facades, brick painting, decorative interior walls…

Used on :
House foundation
Decorative wall
Balcony
Patio
Poolside
Why choose acrylic concrete coating?
At Les Surfaces PolyPlay, we use acrylic coating on vertical surfaces, such as foundations and decorative walls. This coating also possesses very good characteristics to be installed horizontally.
The acrylic installation steps allow your foundation to continue to breathe while becoming waterproof. These two characteristics are essential for the durability of your project.
In addition to protecting and waterproofing your solage, acrylic is much more resistant than cementitious plasters and paints. An acrylic coating installed according to the right specifications is synonymous with efficiency, durability and elegance.
Let our experts guide you in your choice of colour for your project.
Advantages of acrylic coating
Acrylic coatings can be used for various installation processes in the construction industry.
Les Surfaces PolyPlay uses this product for two main types of installations:
foundations
decorative wall coatings
FOUNDATIONS:
Installing an acrylic coating on your foundation will undoubtedly add value to your home. It will beautify the surface that is too often left to its own devices. In addition to the aesthetic side, the acrylic coating will waterproof your foundation against the weather and increase your energy saving.
CEMENTITIOUS WALL COATING:
Installing an acrylic cementitious wall coating will give your rooms a great look. Let your imagination run wild and we will bring it to life. Applied in two layers, the decorative wall coating is extremely resistant and becomes waterproof with the addition of a sealant. This product goes great with our quartz coating for your bathroom, kitchen or living room floor.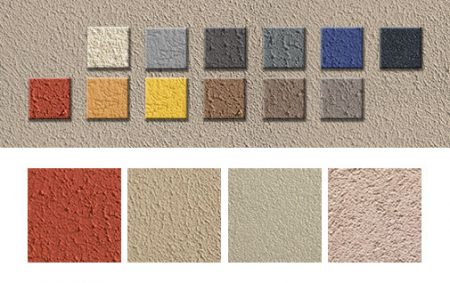 Robustness, versability, quebecois

all of our acrylic coatings are 100% made in Quebec

our coatings are water-based (not harmful to the environment)


several textures available

all our products are tested for:
adhesiveness
frost/thaw
fire
UV rays
acid rains
Acrylic coating as a foundation covering is a high-performance product
In addition to undoubtedly adding value to your home, it will also serve to waterproof the foundation against the elements and will save you energy.